One of the most popular freelance marketing platforms across the internet has to be Fiverr. Its fame precedes its name. It is considered one of the top freelance marketplaces where you can find sellers providing a range of different skills. If you have a requirement, you can find it on Fiverr. The platform offers animations, SEO, web designing, coding, or any style of graphic designing, email marketing, and much more. You name it, Fiverr will have it. Because of such ease in accessibility, Fiverr has become one of the most sought-after online platforms by buyers and sellers for connecting.
Introduction to Fiverr || Fiverr Review
Fiverr has been around for a long time and has gone through massive changes since its inception in 2010. But none has been as business-oriented as its current version. Since 2017, Fiverr has focused on enforcing stricter guidelines to build a legit platform for buyers and sellers.
Fiverr is the number 1 place to go if you are looking to outsource tour projects. It provides a clear view of skills that the seller will offer to them. Fiverr works notably well if you are conducting business with a net positive exchange on the currency rate. For example, if you are in the USA, 5$ is not a lot of money. However, when converted to Philippine Peso,  it is valued at 261.92₱. So as a buyer, you will have the upper hand if you find a seller from the Philippines to do your work. The services are versatile, and you can outsource almost any task.
Fiverr is one of the LARGEST marketplaces for freelancers and buyers.
How Does Fiverr Work? || Fiverr Review

Fiverr has two interfaces, i.e., as a seller (or freelancer) or as a buyer.
To begin using Fiverr, both have to create a free account with Fiverr. Sellers can create "Gigs" (also known as "Services). Here the seller will specify what services they offer and other details about their skills. Buyers can search for the services or gigs they want and purchase one considering their needs
For placing the orders, the buyer will have to make the payment to Fiverr in advance. The seller will have to complete the task as per the guideline given by the buyer. After the task is completed and submitted to the buyer, they can ask you to make revisions if needed.
The seller can withdraw their money after 14 days from the completion of the order. The duration changes to 7 days, if you are a top-rated seller
Fiverr's Legitimacy || Fiverr Review

Now platforms like Fiverr have a problem with having both legitimate sellers and buyers. And there is always a chance of getting scammed. Let us see how Fiverr deals with this issue.
As far as top freelance marketplaces are considered, Fiverr offers one of the most legit platforms for buyers and sellers. There are few chances of you getting scammed, but if you know how to identify threats while searching for a gig or buyer. Your chances of getting scammed will reduce astronomically. Something that we will discuss further in this review.
This issue does not hurt the legitimacy of Fiverr as a platform. Fiverr, since its inception in 2010 has grown up to be one of the most defiant top freelance marketplaces. The services generate about 189.51 million USD in annual revenue and have 3.42 million active buyers. So the numbers speak for the popularity of the platform.

Why should you select Fiverr for outsourcing/freelancing? || Fiverr Review

There are many reasons to select Fiverr as your go-to platform for freelance. Alternatively, you can also consider these reasons as to how you can avoid scammers on Fiverr. As you will see, Fiverr safeguards buyers from any kind of scam and enables seamless cash flow between buyer and seller.
Advanced Payment Handling System
We have previously stated how the buyer will have to pay Fiverr for the gig in advance. This kind of system essentially safeguards the seller or freelancer from any scam job from the purchaser. The payment processing to the freelancer only starts when the buyer confirms project completion. Plus, buyers can get the work re-edited before finalizing the completion if required.What happens here is that Fiverr becomes a moderator, and ensures that you are getting the best service be it, buyer or seller.And then there is Fiverr Pro which gives you access to a premium marketplace. It lets the best-performing and manually-vetted sellers connect with some of the best-known brands and businesses.Furthermore Fiverr lets buyers filter the seller through various means to see who is the freshest and who is the most popular. Lastly, you can also find subscriptions from sellers who can provide you services regularly such as on a monthly or weekly basis.

The purple and the largest box shows how you can place filters for top sellers and fresh ones; the red box highlights the pro service providers, and subscription services highlight the sellers whose services you can subscribe to.
Sellers can showcase their work samples
Sellers get to showcase the sample of their work for good measures. It adds more to the transparency of the seller as they list their skills out and exhibit them with examples to inform their proficiency.Having sellers showcase their work is also very good for buyers. Buyers are always going to be skeptical of the sellers  because online scams are a real thing. But having your seller showcase their previous work gives you as a buyer more insights into their activity and the type of final product you can expect.As stated above, you can also adjust to check for seller details in the filter bar. You can select the seller in several different ways including:
1. Top rated seller (for high-quality work) and the new seller (for cheaper gigs)
2. Language
3. Their country of residence
Reviews
You can leave a review for every seller that you have purchased service from. For buyers, it is a very good way to check for the quality of freelancers' work. As a buyer, you can also do some brainstorming and check up whether the reviews are legit, or the freelancer completes work on time, etc.
Can I cancel my orders on Fiverr? || Fiverr Review
Yes, you can cancel your orders on Fiverr. And here is how you do it:
After logging into your buyer account, go to your order page.
Click on the order that you want to cancel.
There you will see a small blue box like this on the top right corner where you will also see the option "Order Details."

Click on the "Resolution Center" option and you will be redirected to "Ask the seller to cancel this order."
Then choose a reason for your cancellation from the drop-down list and you are done.
Fiverr will notify your seller and give them 48 hours to accept the cancellation. In case, the seller fails to accept or decline the request, Fiverr will automatically cancel it after 48 hours.
You can visit the order page to check your order dispute and withdrawal of your funds.
Fiverr Pricing || Fiverr Review

Now, Fiverr does not have any fixed rates for services. Each seller sets the price for the services they offer. Fiverr gives them complete autonomy on how they will bill the buyer as per their stated requirements. Also, both buyers and sellers can create their accounts on Fiverr for free.
So how much of a cut does Fiverr take on every order completed?
Fiverr takes a 20% cut of every order that sees completion. For example, if you, as a client, purchased services worth 15$, Fiverr will take 3$ from it as their commission.
Fiverr lets sellers post a certain amount of active Gigs based on their level status. Here is how it works
You can post up to 7 gigs without a level status.
You can post up to 10 gigs if you are level 1 status
You can post up to 20 gigs if you are level 2 status
Once you level up as "Top Rated Seller," you can post up to 30 gigs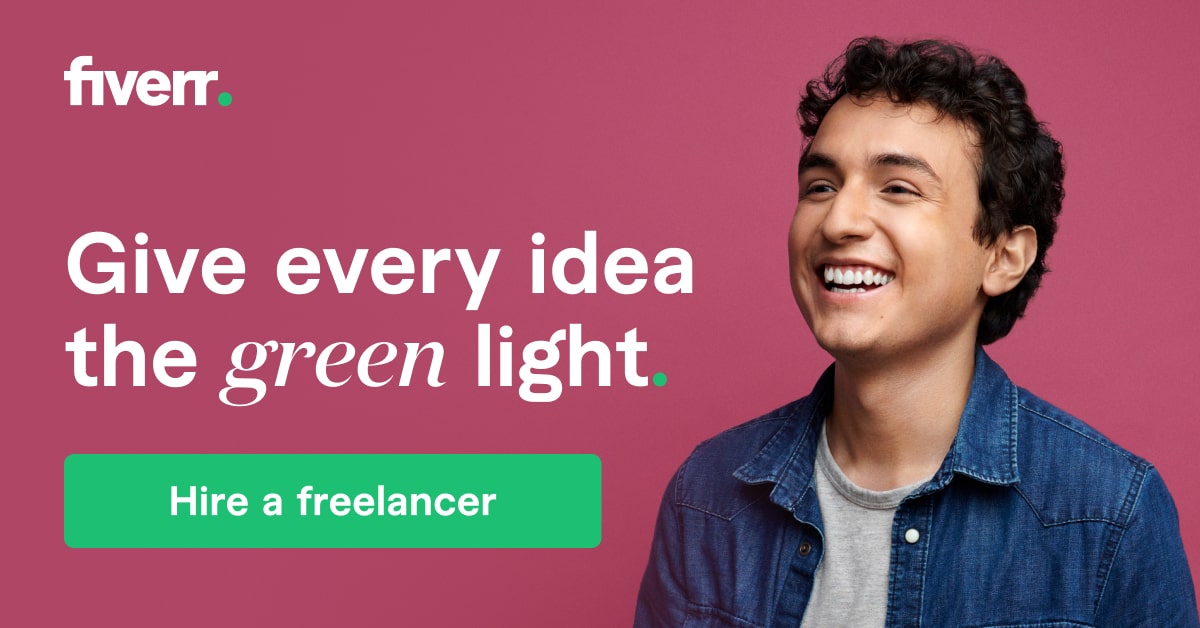 Pros and Cons of Fiverr || Fiverr Review

The review will be incomplete if we do not discuss its pros and cons. Let us start with some pros:
Fiverr is one of the most affordable platforms for freelancing as projects start from a price as low as $5, which is fantastic.
For freelancers, Fiverr offers a very safe space to work. As Fiverr takes the payment in advance it safeguards the payment protection for the freelancers and service protection for the buyer.
Gigs are easy to find on Fiverr. You can get pretty much everything from social media marketing to SEO to web designing.
Instead of hourly payments, you can make payments per project which gives you better hand at bargaining as a buyer.
Fiverr is one of the most legit platforms for buyers and sellers. Companies such as Facebook, Netflix, Paypal, and many others use it for freelancing projects.
And now cons:
You may have to settle for average quality projects sometimes, be it content writing or others if you are going for cheaper options.
In Conclusion || Fiverr Review

Fiverr is a great place to find freelance work for yourself. It offers a variety of options to select from and on a higher price scale, you can get the absolute best quality of talent. Some businesses have successfully freelanced some of their operations through this popular freelance marketing platform. It lets you connect with a wider array of an accomplished pool of professionals that you may not be able to access because of geographical boundaries. You can even get professionals to work on your projects through a paid subscription model for tasks like SEO and email marketing that require regular and constant attention.